ALTERNATIVE HOLIDAYS
Looking for something different? Looking for something Else?



El Yachting announces its new base in Patras.

We offer a special 20% discount, for charters starting from Patras. Discount is valid for bookings made from: 1st of April until the 17th of June

Patras is only a 2h drive from Athens International Airport "El Venizelos". This gives the opportunity to our guests to fly to Athens and pick their yacht up from Patras. Patras is located in the North West of the Peloponnese giving sailors the opportunity to visit new undiscovered areas in the Corinth and Patras gulf but also to visit the Ionian.

We will be offering 6 brand new yachts from our base in Patras Marina.

A Lagoon 46 built 2021, an Oceanis 46.1 built 2019 , an Oceanis 46.1 built 2020, a Dufour 460GL built 2019 an Oceanis 41.1 Built 2020 and an Oceanis 40.1 Built 2022 .




ITINERARIES
1 week
| | | |
| --- | --- | --- |
| Corinth Gulf | Ionion Route 1 | Ionion Route 2 |
| Patras - Trizonia | Patras-Messolonghi | Patras Oxia(swimming)-Ithaca |
| Trizonia-Itea (combine visiting Delfoi) | Messolongi-Ithaca | Ithaca-Sami (Kefalonia) |
| Itea - Antikyra | Ithaca-Fiskardo (Kefalonia) | Sami-Fiskardo |
| Antikyra - Alkionides | Fiskardo- Poros (Kefalonia) | Fiskardo-Sivota (Lefkas) or Meganisi |
| Alkionides -Galaxidi | Poros-Zante | Meganisi- Kastos |
| Galaxidi-Nafpaktos | Zante-Killini | Kastos-Messolonghi |
| Nafpaktos - Patras | Killini-Patras | Messolonghi -Patras |
2 weeks
| | | |
| --- | --- | --- |
| Peloponesse | Ionion | Corinth Gulf-Saronic |
| Patras-Killini | Patras-Sami(Kefalonia) | Patras-Trizonia |
| Killini-Katakolo | Sami-Fiskardo | Trizonia-Corinth |
| Katakolo-Kiparissia | Fiskardo-Meganisi | Corinth- Korfos |
| Kiparissia-Pylos | Meganisi-Preveza | Korfos-Epidavros (Old) |
| Pylos-Methoni | Preveza-Paxoi | Epidavros-Methana |
| Methoni-Koroni | Paxoi-Syvota | Methana-Poros |
| Koroni-Gerolimenas | Syvota-Parga | Poros-Aigina |
| Gerolimenas-Porto Kagio | Parga-Lefkas | Aigina-Corinth |
| Porto Kagio-Elafonissos | Lefkas-Kalamos | Corinth-Alkionides |
| Elafonissos-Monemvasia | Kalamos-Kastos | Alkionides-Galaxidi |
| Monemvasia-Hydra | Kastos-Ithaca | Galaxidi-Nafpaktos |
| Hydra-Poros | Ithaca-Messolonghi | Nafpaktos-Patras |
| Poros-Korinthos | Messolonghi-Patras | |
| Korinthos-Trizonia | | |
| Trizonia-Patras | | |


Tips: Main sights to visit in Patras!
The Mycenaean cemetery of Voudeni (Skioessa), 8 km (5.0 mi) from the center of Patras, is one of the most important sites of the Mycenaean world, showing active use for nearly five hundred years (1500–1000 BC). The site itself appears to have been inhabited from the Bronze Age until middle Roman times (1800 BC–AD 400).
The Patras Archaeological Museum focuses on the exhibition of various archaeological finds, from the Mycenaean to the Late Roman era, discovered in Patras and the wider Achaea region. The museum is housed in a modern and special architectural building designed by the architect Theophanis Bobotis
The medieval Patras Castle, in the ancient acropolis overlooking the city, was initially built in the 6th century AD by the Byzantine emperor Justinian, having many additions from the period of the Frankish and Venetian rule of the city, up to as far as the time of the Despotate of Morea and later the Ottoman Empire. Its current outline dates back to the second Venetian rule of the town (1687–1715). Today, its interior is used as a public garden.
The church of Saint Andrew of Patras was founded in 1908 by King George I and was inaugurated in 1974. It is dedicated to Saint Andrew, the patron of the city. It is the second-largest temple of Byzantine style in the Balkans (after the Cathedral of Saint Sava in Belgrade). The central cupola is 46 m (151 ft) tall and is the base for a 5 m (16 ft) gold-plated cross and twelve smaller ones, symbolising Christ and the twelve apostles. A congregation of at least 5,000 can attend a sermon within the church.
The Roman Odeon, the most significant ancient monument, is in the upper town and was built around 160 AD, in the reign of either Antoninus Pius or Marcus Aurelius. It has been restored and partially reconstructed, and is used as an open-air theatre for performances and concerts in the summer.
The Achaia Clauss wine industry and tasting center, which is on the outskirts in Petroto village. It was founded in 1861 by the Bavarian Gustav Clauss and is most famous for its Mavrodaphne.This place also houses the oldest wine of Greece, the old mavrodaphne of 1873.

El Yachting offers a 7 day training course on board one of her yachts!
Sailing is a sport that requires brains, strength, grit, and determination and is accessible to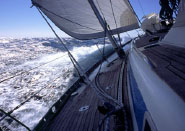 all ages. It's also a way of relaxing and enjoying the sun and the sea being able to visit remote beaches and clear waters! So why not try it!!!
Treat yourself to the ultimate sailing holiday of a lifetime. Swim in some of the most beautiful bays, visit enchanting islands, experience the history of Greece, all while you receive expert training and tuition. You will enjoy participating in the running of your holiday. The workings of your vessel will constantly be explained to you as you cruise the Greek islands and coast!
Learn how to sail in a week on board one of our sailing yachts.
We offer you a unique experience with a trained skipper on board. At the end of the course you will have learnt the basics of sailing and will have had a great holiday!
During your course you will learn the fundamentals of sailing. You will be taught how to steer a yacht, rope work, sailing a basic course and being aware of safety on board.